If you don't have a perfect credit score but need a personal loan, then you might appreciate the approach of an Upgrade Personal Loan. Upgrade looks at your free cash flow when they determine whether or not you qualify for one of their personal loans. They will also do a soft check of your credit score so that it doesn't affect your credit before doing a hard check that does affect it. 
Many people looking for non-traditional loans might be doing so to cure some of their financial health problems. If that is the case for you then it is important to remember that you need a strong game plan before you even think about getting a loan to pay off debt. A personal loan comes with interest so it is not an easy and free option. But it might be an option you need to utilize if you are ready to free yourself from the mental stress of financial burden.
Before deciding to apply for any type of loan, you need to do your research. Each time you apply for credit, your credit score is affected and if your score is low it will get lower. So looking at all of the options available to you and then figuring out if they fit your lifestyle is a must before filling out an application. Our editors have examined the Upgrade Personal Loan and compiled important information to help you decide whether or not it is right for you.
Benefits of an Upgrade Online Personal Loan
The personal loan choices Upgrade has to offer are valuable because of their free monitoring services. You can monitor your credit score without worries by using Upgrade's Credit Health features. Access to these insights is free as soon as you get your application approved.
Using these tools, you can access a summary of your credit report, get personalized recommendations, simulate various financial situations and maximize your credit potential. This way, you have a data-driven resource that generates reports and tips based on your actual financial status.
It might be helpful for you to know that you don't need to use your house or car for collateral when getting a loan from Upgrade. Clients also get to pick the start date, allowing them to get their loans and start the loan term on a date that works best. You also do not have to worry about payment dates as the company offers flexibility, letting you pay your dues as your budget allows you to.
What are the Fees for the Upgrade Online Personal Loan 
If your application is approved, you are expected to make on-time payments. However, these payments are low and fixed, making it much more accessible for you. When you get a loan between $1,000 and $50,000 you can pay your dues for 36 or 60 months without repayment fees.
Your annual percentage can be between 6.99% to 35.97%, depending on your situation. Take note that there is an origination fee of 1% to 6%, which will be deducted from the loan amount before it is disbursed to you.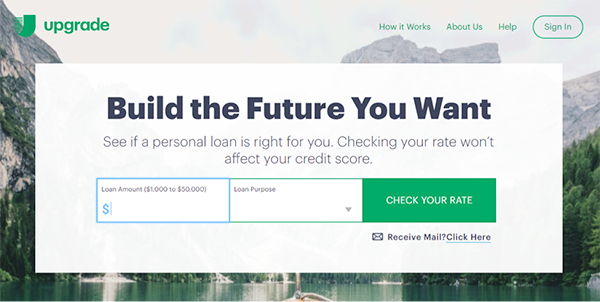 How to Apply for an Upgrade Online Personal Loan
If you decide to get this loan, you can use the online application form on the Upgrade website. During the process, you will have to provide the loan amount you want between $1,000 and $50,000. You also need to prepare the right documentation including your individual gross income. Keep in mind that the organization may require income verification files.
For self-employed individuals, you will need to present your tax returns for the last two years. If this is not available, you can submit a full two years of tax returns, all pertinent schedule documents, and most recent personal or business bank statements.
You will also need a valid email address and bank account. As with any other lending company, you can expect them to ask for your credit score on which your chances of getting approved (or denied) will be partially based.
Getting a loan might be intimidating but with the various options that an Upgrade Online Personal Loan can provide, you may decide it is right for your lifestyle. If you are interested in applying for your loan, the get together all of the information you will need and move on to the application form on the Upgrade website. If you haven't made up your mind yet then you can check out some other personal loan options. 
How to Contact Upgrade
To learn more about this personal loan, call Upgrade directly at (855) 997-3100. You can also stop by their main office at 275 Battery Street, 23rd Floor San Francisco, California.  
Note: There are risks involved when applying for a loan. Consult the lender's terms and conditions page for more information.