Going vegetarian is an incredible move for both your wellbeing and the Earth. Yet, at first, it can sound daunting. That meat is easy for us to consume, right? Throw in the oven some beef, steam a vegetable, and get dinner ready easily. You do not worry too much!
But here's the thing: vegetarian food can be more delicious and more straightforward, you just need a recipe guide in your back pocket with simple yet delicious meals.
Here are a few easy vegetarian meals which you can try as a beginner. Continue reading to learn more about these tips and meals.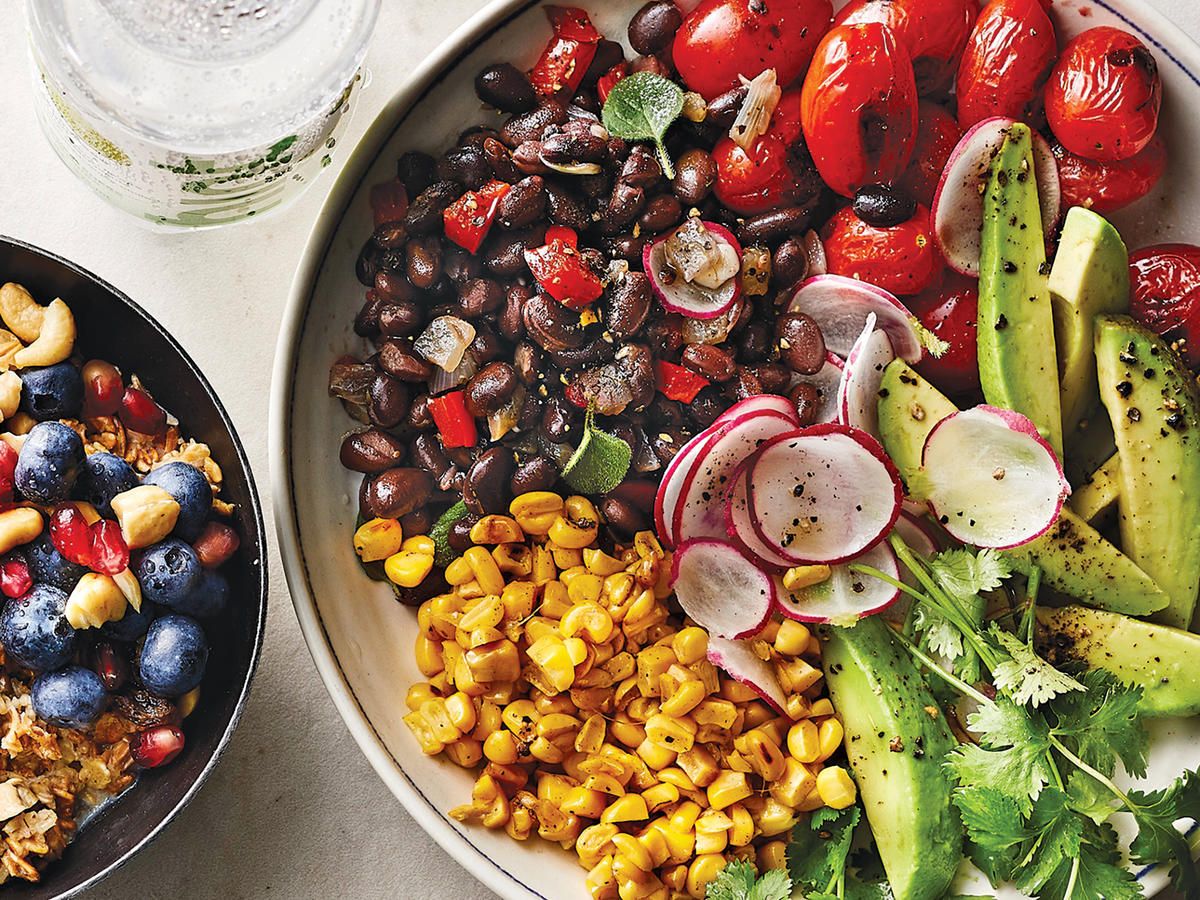 Avocado, Black Bean, and Charred Tomato Bowl
This meatless bowl provides a variety of textures and tastes that are equally perfect at room temperature, including cumin-scented black beans, blistered tomatoes, corn, and fresh avocado.
When your own beans don't have time to simmer, canned unsalted beans perform just as well here. Feel free to blend all together, instead of splitting it into quadrants. Finish, if you like, with a squeeze of lime.
The nutritional value in this dish includes 428 calories, 19g of fat, and 17g of protein.
Farro, Green Bean, and Kale Salad
Pouched precooked farro (which you'll see on some bigger supermarkets' rice and grains aisle) is an excellent commodity to have on hand. It can remain in the pantry for months, heats up in just 90 seconds, and is flexible enough to go into salads, soups, pilafs, and more.
If you have time, you can cook your own farro too; for this recipe, you'll need 2 cups. This salad holds up well for many days, so feel free to double the recipe for almost the whole week and have lunch in the fridge.
The nutritional value of this dish is 321 calories, 14g of fat, and 8g of protein.
Smoky Potato & Green Tacos
Cooked greens and crispy potatoes for a skillet hash are excellent, so why not try something new? Pile in lightly charred corn tortillas, and top with colorful toppings such as fresh coriander and radishes to transform a one-note leftover into a tasty, satisfying main.
This is the best trick for crispy potatoes without the added fat: spread after boiling and draining on paper towels to eliminate any extra moisture, then stir regularly.
At the same time, they jumped for even browning on all sides. If you're off without a batch of collard greens, any hearty green, like kale or chard, can wilt or sauté.
The nutritional value of this dish is 409 calories, 14.1g of fat, and 12g of protein.
Vegan Tempe Taco Meat
This vegetarian meal has tempeh brushed with a grater for making the ideal vegan "ground meat" and oil. You can slightly dip the tempeh in oil, but if you need to, you can take the oil out.
For the spices, add cumin, chili powder, and smoked paprika offer some serious flavor. Adjust to match your taste as needed! Tomato paste is the glue that keeps it all together, offering a rich taste of umami and color. There are 99 calories in this dish.
Nutty Fried Rice
This hearty vegetarian dish is a friendly alternative to the traditional fried rice takeout version, which combines lots of nutty flavor from toasted sesame oil, roasted cashews, peanut butter, and sesame seeds.
The rice is sprinkled with a savory, creamy peanut sauce. When you have a peanut allergy, instead of peanut butter, opt for cashew, almond, or sunflower.
Look for toasted sesame seeds on your supermarket's spice aisle; it's a perfect ingredient to have on hand for busy nights, as it saves a trip. The nutritional value of this dish is 367 calories, 22g of fat, and 12g of protein.
White Bean and Vegetable Bowls with Eggs
All vegetables and umami depth are filled with this simple bowl of brothy goodness — the comfort food you can feel good about.
It's perfect even for occasions when the food budget is low, as it just costs around $11 for 4 servings. One-bowl dinners are a perfect way of answering the frequent striking "What's for Dinner?" issue.
This flavourful choice provides a vegetarian alternative. The eggs add great protein to the veggie-heavy dish. The ingredients are close to what you find in a typical chili, but they're all but results. The nutritional value of this dish is 277 calories, 10.5g of fat, and 15g of protein.
Conclusion
Try out these easy-to-make recipes now! For beginners, these recipes can help you explore your inner chef-like skills and at the same time, making your body the temple of health and goodness!